JDCR-LGDW Series (+20dBm)
5 Band Consumer Repeater - EU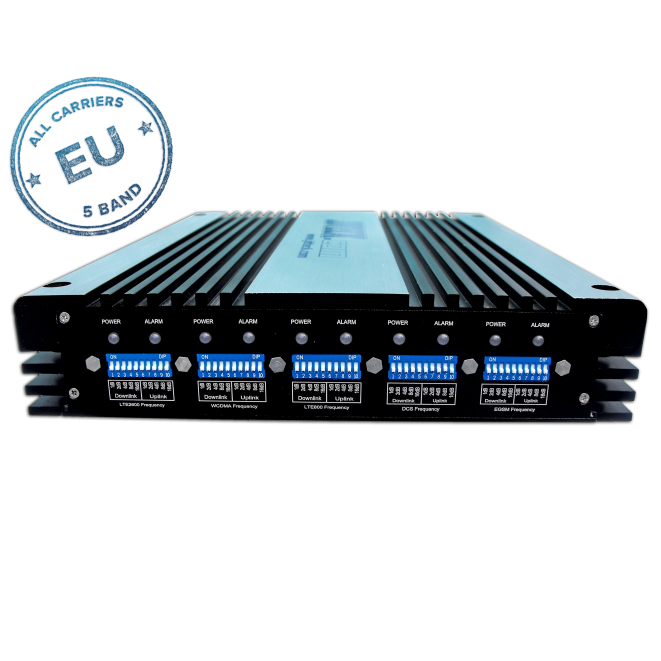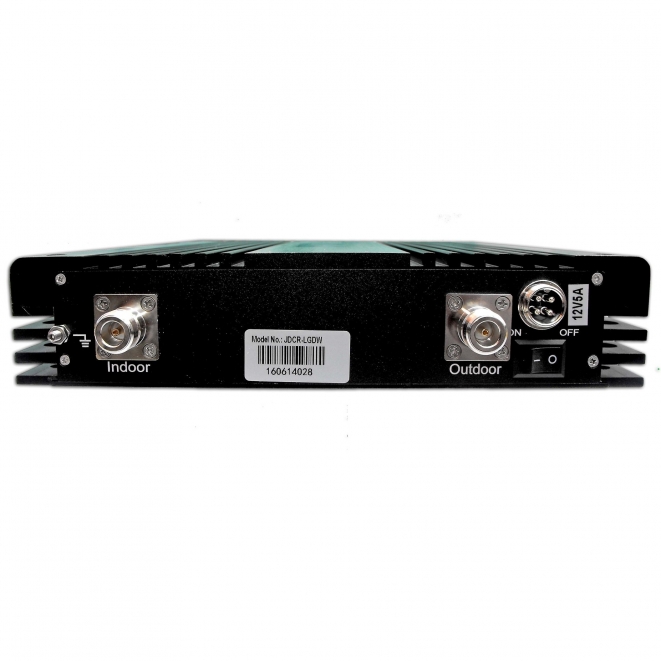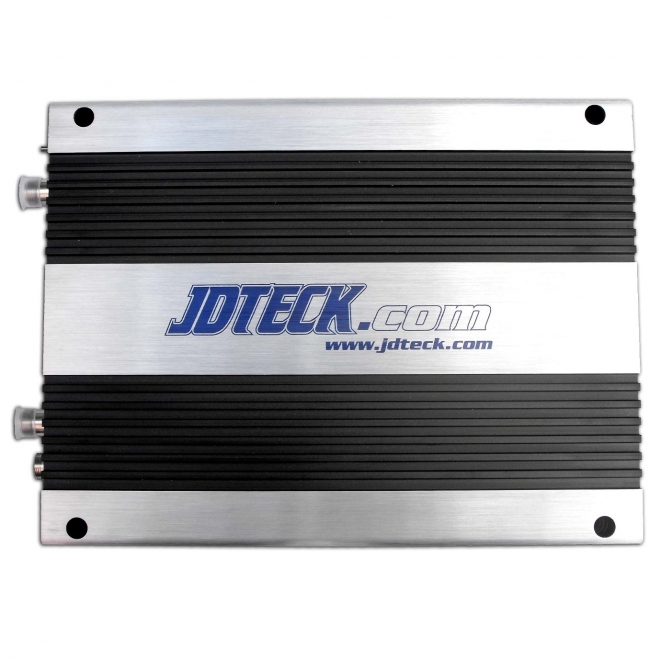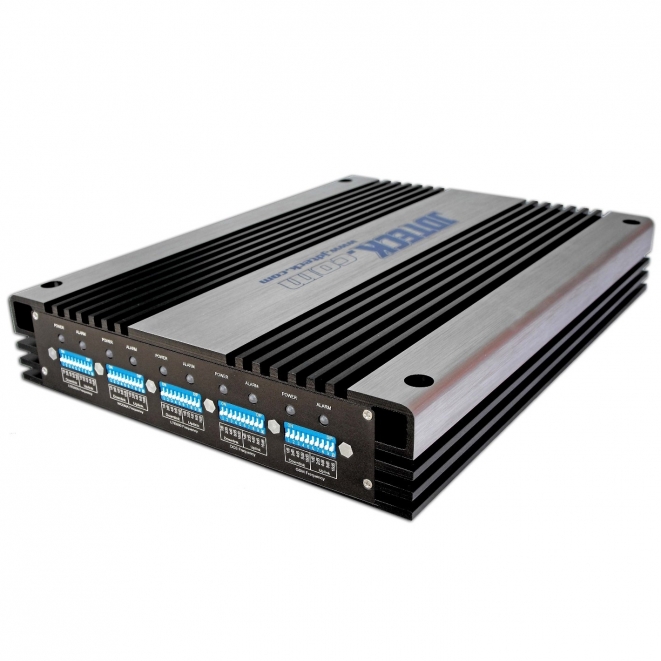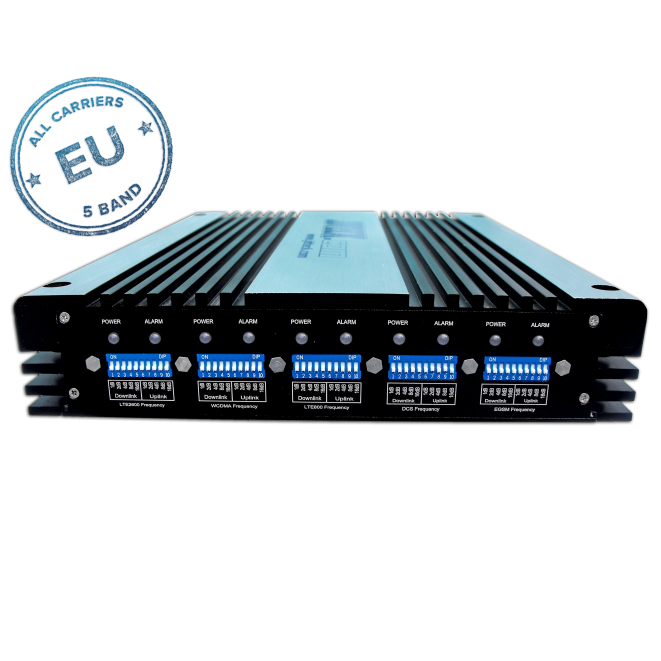 Product Overview
The JDCR-LGDW Indoor Cellular Repeater is a medium-powered, 5 Band gain adjustable repeater that is perfect for providing wireless coverage to an office building, department store, warehouse, underground parking lot, or multi-story building. Our repeaters help mitigate less than desirable PN scans in RF polluted environments thru the use of high linear amplifiers, properly specified output power limits and a well designed alarm/protection circuitry.
A certified test report is included with each repeater that leaves our factory, so you are assured of strict quality controls.

Unlimited Call Capacity
Industry Leading 5 Band Repeater
800 / 900 / 1800 / 2100 / 2600 MHz
70dB Gain / 20dBm Output Power
MUTE - Auto Shut Down if oscillation is detected
36 Months Warranty
MGC: Manual Gain Control (Uplink & Downlink)
Transparent to Transmitting Tower in Area
Coverage Area - (45,000 - 55,000 sq ft)

Supports 90-240 Volts
Alarm LED's for Error Detection
Supports Any Cellular Device (Voice & Data)
Automatic Output interception function (MUTE)
Fully expandable to cover much larger areas
Automatic Gain Control Feature
Carrier Grade Performance & Quality
Free! - Phone Tech Support
The JDCR-LGDW 5 Band Cellular Repeater is a medium-powered, gain adjustable, triple band repeater that is perfect for providing wireless coverage inside a large home, office building, restaurant, warehouse, underground parking lot, VIP room, etc. Designed with European networks in mind, this repeater supports 5 frequency bands, making it very convenient. (800 / 900 / 1800 / 2100 / 2600 MHz). The JDCR-LGDW unit is also fully customizable, making design and installation of an indoor system extremely easy. With the use of RF directional couplers and indoor antennas, we can design a solution that fits your specific needs. A typical unit can easily cover up to 55,000 sq ft.
To maintain safe and specific output signal levels, this advanced repeater has built-in AGC and ALC circuits, which can automatically control the gain of the repeater within a 15dB range depending on environmental conditions. In addition, it also has built-in attenuation dip switches that allow you to manually attenuate (fine tune) the repeater's uplink and downlink channels in 1db steps up to 31dB, using color changing LED's as a status indicator. These Alarm LED's are used as a guide to prevent your installation from re-producing errors due to excessive input signal strength if a pre-amp is used, or from signal oscillation due to the indoor antenna and outdoor antenna being too close to each other, which can have adverse effects on a base station.
A Network Safe / MUTE™ feature comes standard with this repeater to protect the cellular network. In short, the repeater will stop transmitting if any errors or signal oscillation is detected within 2-4 sec of detection. It will cycle for 30 sec then attempt to transmit again. If no adjustment in gain has been made to correct the error within the 30 sec MUTE cycle, the system will again shut down after 5 sec. It will run this sequence for a total of 3 times and then shut down completely. Unplugging and powering back up the unit will reset this sequence
The JDCR-LGDW Indoor Repeater is designed to be transparent to the network and will therefore support the same number of calls the BTS in the area can support. It is also compact enough that it can be placed within an electrical closet where space is limited.
Frequency Chart
Model

Uplink

Downlink

JDCR-LGDW-20
LTE800
831~861 MHz
791~821 MHz
GSM900
890~915 MHz
935~960 MHz
DCS
1710~1785 MHz
1805~1880 MHz
WCDMA
1920~1980 MHz
2110~2170 MHz
UMTS
2500~2570 MHz
2620~2690 MHz
 Filter Bandwidth
Wideband
 Max total output power
  ≥15dBm
≥20dBm
 Max. Gain
≥70dB
≥70dB
 Gain Flatness
LTE & GSM: ≤5dB, DCS & WCDMA: ≤8dB UMTS ≤6dB
 AGC Range
≧15dB - Auto shut off after 15dB (MUTE)
 Maximum Input Power
  0dBm
 Gain Control Range(MGC)
≥31dB in step of 1dB by Dip Switch
 V.S.W.R
≤2
Intermodulation
9KHz~1GHz ≤-36dBm
9KHz~1GHz ≤-20dBm
1GHz~12.75GHz ≤-30dBm
1GHz~12.75GHz ≤-20dBm
Spurious Emission
9KHz~1GHz≤-36dBm
1GHz~12.75GHz≤-30dBm
Spurious Emission Mask
Complies with 3GPP TS 25.106
Modulation Accuracy
Complies with 3GPP TS 25.106
Peak Code Domain Error
Complies with 3GPP TS 25.106
Frequency Stability
≤0.01ppm
ACPR
≥30dB @±5MHz&±10MHz
Noise Figure (@ max gain)
  ≤5dB
Group Delay
≤4.5 micro Sec
Impedance
  50Ω
Mechanical Chart
Power Supply
Input 90- 264 VAC,50 Hz, transformer: 12V/5A
Cooling
Heatsink Convection Cooling
Power Consumption
< 35W
Operating Temperature
-10°C~+50°C (14F ~ 122F)
 RF Connector
N Female
Weather Proof
IP40
 Dimension
275 x 268 x 300mm (10.83" x 10.55" x 16")
Weight
≤8Kg (17.6Lbs)
LED Alarm
Standard
Power LED
Power Indicator
ALC LED
Amber @ ALC 1~5dB, Red @ ALC 15-20dB
LED off after 5 seconds red color
30 Day Money Back
GUARANTEE
---
36 Month Warranty
Spec Sheet

Upload Background Image
Drop File