The JDTECK Difference
At JDTECK, we are exceptionally good at engineering efficient Distributed Antenna Systems.
We are strictly focused on the needs of our customers and using our intimate knowledge and many years of experience
with this technology to engineer, supply, install, optimize and maintain solutions that exceed expectations. Let us help you!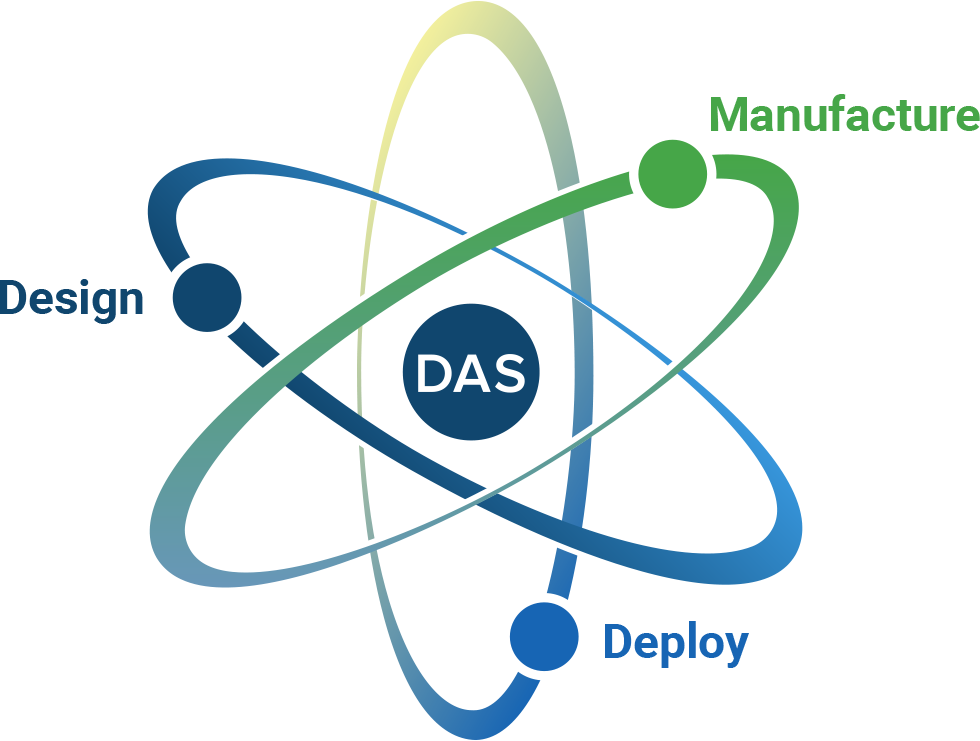 We have DAS down to a science
Upload Background Image
Drop File
We do all the engineering work for you!
There are 3  critical  aspects to achieving a successful DAS deployment. 

The quality of engineering that went into the design.

The quality of the products used. 

The quality of the installation & optimization work done. 



JDTECK understands this all too clearly which is why we are the ones that takes charge of engineering the DAS using our own products when we are asked to provide a turn-key solution. This takes a major headache, time and liability away from the integrator and allows them to focus on what they do best; following a detailed set of engineered plans step by step, while focused on doing neat, high-quality cable management, termination and optimization work.
JDTECK has also developed a proprietary method for engineering a DAS which allows us to cover a much larger area on a passive DAS system than any other company is able to successfully achieve because of highly efficient RF power distribution. This translates to a much more affordable solution that works because we do not need to prematurely upgrade to an active DAS solution just because the sqft of the space exceeds 100,000 sqft. JDTECK has successfully deployed passive DAS solutions in high-rise buildings that exceed 1.3 Million sqft.
Upload Background Image
Drop File
Our techs use the right field test equipment
Using the right test equipment is key to ensuring that every cable run and resulting termination is done perfectly. It's the ONLY way you can 100% guarantee the performance results of a deployment. This is why JDTECK owns a fleet of Anritsu Spectrum Analyzers which are used by our techs. These spectrum analyzers have the ability to perform several tests, one of them called frequency return loss. This test ensures that all your cables are swept and are optimized to perform at the specific frequencies your DAS is going to support. 
For example, a cable can test perfectly at one frequency and the very same cable completely fail at another frequency. This is why JDTECK ensures that our techs only use high quality spectrum analyzers (Anritsu or Equivalent) that can perform the right tests and make sure they completely avoid those cheap / low cost "analyzers" that can only provide you the RSSI which is completely useless to fully optimizing a DAS.  Our tech support is also familiar with this advanced test equipment so any field tech needing additional support while working on your DAS can quickly call us to help him / her figure out a setting or how to complete a test.
Upload Background Image
Drop File
We customize our tech's cable prep tools
JDTECK takes tech support to another level to ensure the job is done right! We go as far as to modify and customize the tools used in the communications industry for our techs. This gives them a competitive edge and allows them to repetitively complete cable terminations that turn out perfect every time and are completed in a fraction of the time it normally takes.
We understand that part of offering you a competitive service is also ensuring that our techs have the right tools to get the job done as efficiently as possible.  


Upload Background Image
Drop File
We invested in the right in-house test equipment
Part of ensuring that a DAS deployment performs optimally is guaranteeing that every component in the system meets industry spec. This is why JDTECK has invested in a significant amount of in-house test equipment so we can physically test all the products we produce and ship to a job site. This saves the integrator major amounts of time from them having to verify if each component meets spec at the job site as well as ensures there are no dead on arrivals. 

Investing in test equipment provides another checkpoint in the quality assurance process between the factory assembly line and the job site or end user. It also fosters an environment to continually strive to improve performance specs. 
Upload Background Image
Drop File
We are innovators

 
When faced with challenges, JDTECK always looks for ways to address these, even if it means innovating a solution.  
An example of this is our DAS corner antenna. As we serviced customers in high-end environments where aesthetics is paramount, we needed an antenna that was directional but that would be discreet so it blends in with the aesthetics of the environment.  Since nothing like this existed, JDTECK opted to innovate this product.

The DAS corner antenna is now used in the residences of high net worth individuals and boutique hotels across the world. The innovation does not stop at this antenna, but many other existing products we take and redesign its internals and properties to improve its performance. 
Upload Background Image
Drop File
We are loyal to a standard...

 
At JDTECK we aim to operate at the highest standard and deliver a solution based on this principle. This is not always easy as there are many factors that influence this outcome which are beyond our control. But for all that's within our control, we do our part to ensure the customer gets the very best.
We believe our advertisement is in the quality of the work we do and the level of help we offer persons, not in trying to grab the next sale. 
"Be the best at whatever you do and the customers will come looking for you". 
Upload Background Image
Drop File
Superior Product Quality
Our extensive experience in cellular network infrastructure and deployments.
PRODUCTS
Our Client Base
Our extensive experience in cellular network infrastructure and deployments.
INDUSTRIES 
JDTECK vs the Competition
Our extensive experience in cellular network infrastructure and deployments.
ADVANTAGES 
Upload Background Image
Drop File
Industries
Wherever cellular networks and end users intersect, JDTECK has a solution available to help fill in the gaps in coverage and improve the user experience.  
Upload Background Image
Drop File
Upload Background Image
Drop File
Upload Background Image
Drop File