Quad Band Line Amp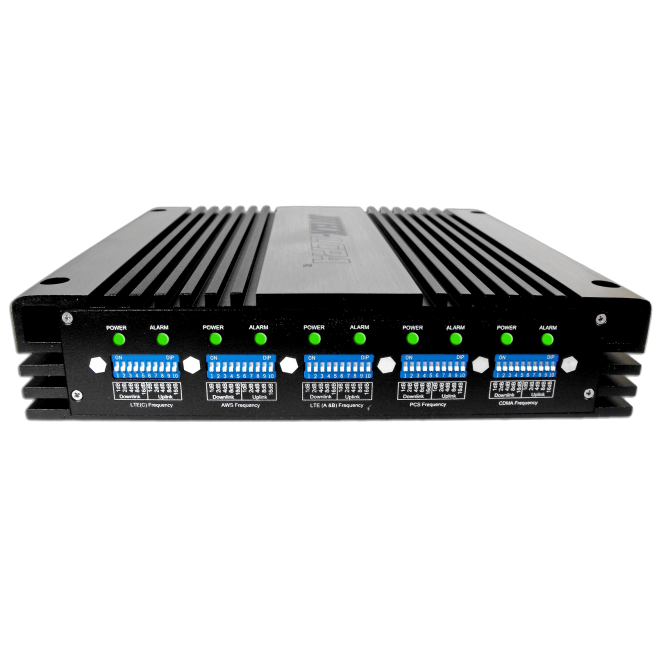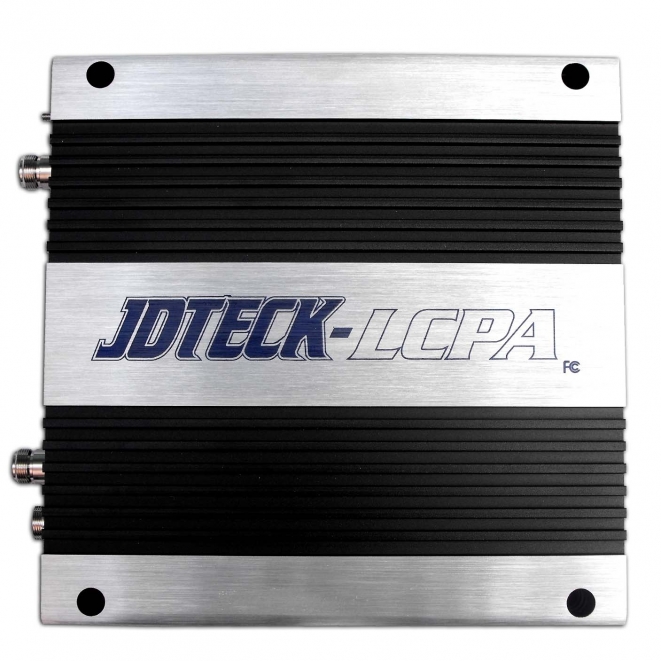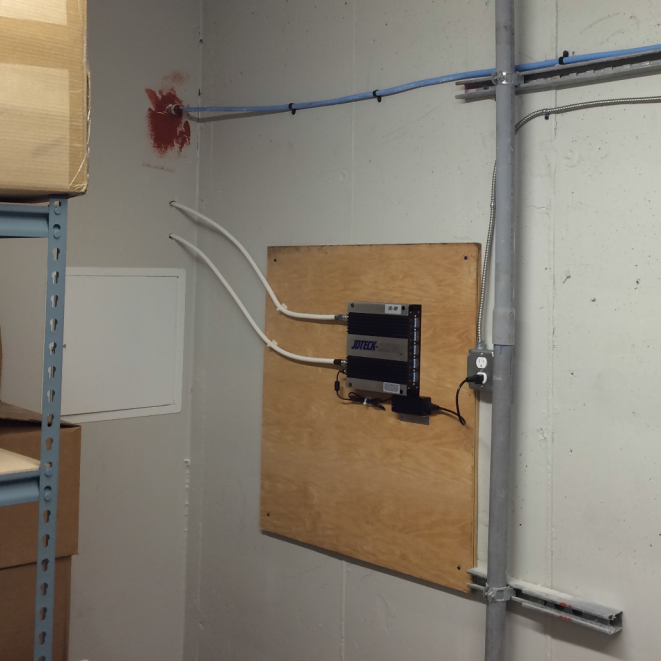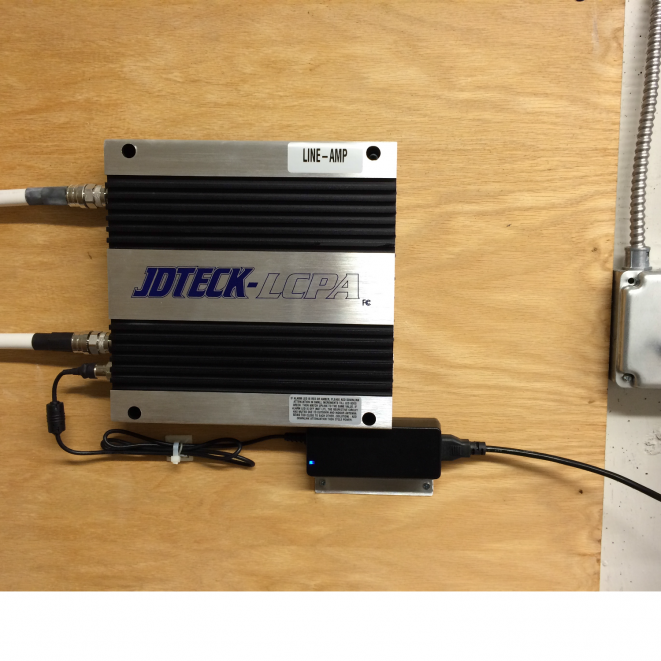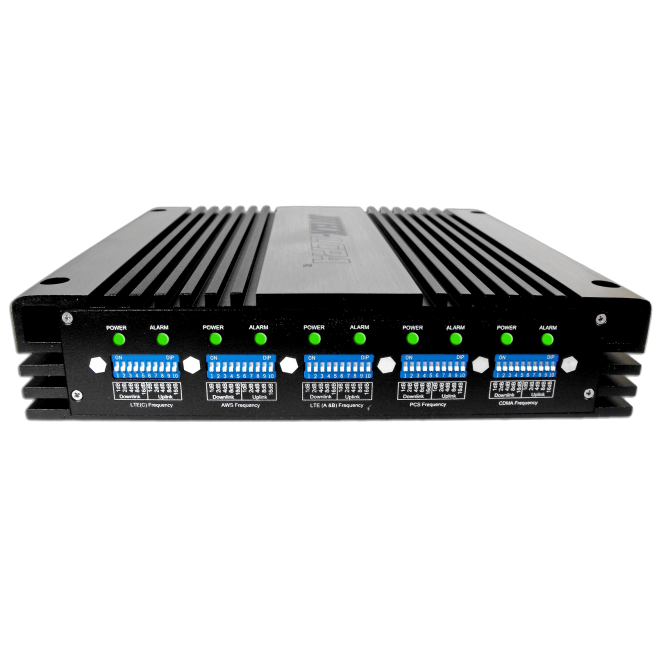 Product Overview
This JDTECK Quad Band Band Line Amplifier was designed specifically to provide a boost in signal downstream of a cellular repeater on a DAS in order to extend in-building coverage where signal may drop off due to long coaxial runs.  It is designed to be installed after a repeater, not before as it has DL output but 0dB UL power. It also has gain in both directions.  It features alarm monitoring LED's to indicate error detection in the respective frequency band.  
Also built into this line amp are DIP switches that manually attenuate the gain of the respective frequency band. This is especially convenient when you only need to attenuate one or two frequencies while others need to be left at full gain. 
A test report is included with each line amp so you are assured of quality standards. 
Extend In-Building Coverage Economically
Full Duplex Gain (20dB)
Alarm Monitoring LED's for Error Detection
Manual Gain Control for Each Band
Meets ETSI & 3GPP / 3GPP2 Standards
Supports Quad Band Frequencies- USA

Provides DL Output Power Only (0dB on the UL)
36 Months Warranty
Supports 90-265 Volt Input
Light-Weight
Attractive Design
SKU:
LA-LCPA-NF-20
Quad Band Line Amp - 700 / 800 / 1900 / 1721
Frequency Chart
Model

Uplink

Downlink

LA-LCPA-NF-20
700 A+B
698 ~ 716 MHz
728 ~ 746 MHz
700 C
776 ~ 787 MHz
746 ~ 757 MHz
800
824 ~ 849 MHz
869 ~ 894 MHz
1900
1850 ~ 1910 MHz
1930 ~ 1995 MHz
1721
1710 ~ 1780 MHz
2110 ~ 2180 MHz
Max.Gain
≧20dB
Output Power
≥0dBm
≥20dBm
Automatic Level Control
≥10dB 
Gain Flatness
GSM & CDMA
Tpy≤ 8dB (p-p); DCS,PCS≤ 10dB (p-p)
WCDMA
≤ 2dB/ 3.84MHz,Full Band≤ 8dB (p-p)
Spurious Emission & Output inter-modulation
 GSM Meet ETSI TS 151 026 V 6.1.0
 WCDMA Meet 3GPP TS 25.143 ( V 6.2.0 )
CDMA Meet IS95 & CDMA2000
WCDMA System
Spurious Emission Mask
Meet 3GPP TS 25.143 ( V 6.2.0 )
Modulation Accuracy
≤ 12.5%
Peak Code Domain Error
≤ -35dB@Spreading Factor 256
Noise Figure
≦ 6dB
CDMA System
Rho
ρ > 0.980
ACPR
Meet IS95 & CDMA2000
 Group Delay
≦0.5μs
 VSWR
 ≦3
Frequency Stability
≤ 0.01ppm
Mechanical Specifications
| | |
| --- | --- |
|  I /O Port |  N Female |
|  Impedance |  50 ohm |
|  Operating Temperature |  -25 ºC ~+55 ºC |
|  Environment Conditions |  IP40 |
|  Dimensions | 250x165x53mm |
|  Weight |  ≤0.7Kg |
|  Power Supply |  Input AC90~264V,output DC9V / 3A |
|  LED Alarm |  Standard |
|  Power LED |  Power indicator |
|  ALC LED |  Orange @ ALC 10dB |
30 Day Money Back
GUARANTEE
---
36 Month Warranty
Upload Background Image
Drop File