250K Quad Band O-DAS Kit
Covers 250,000 sqft of Outdoor Space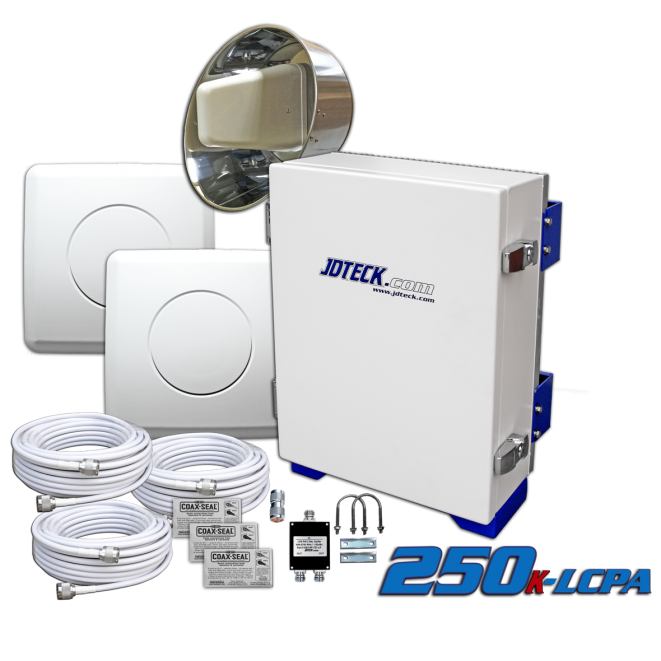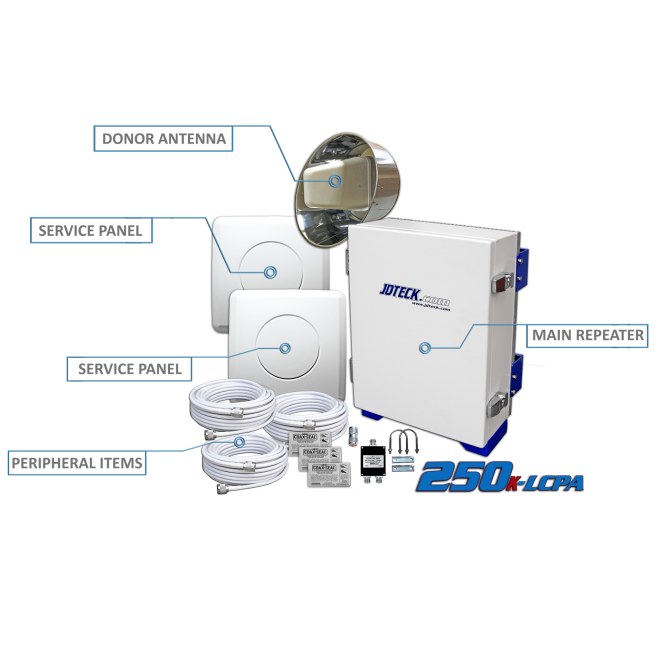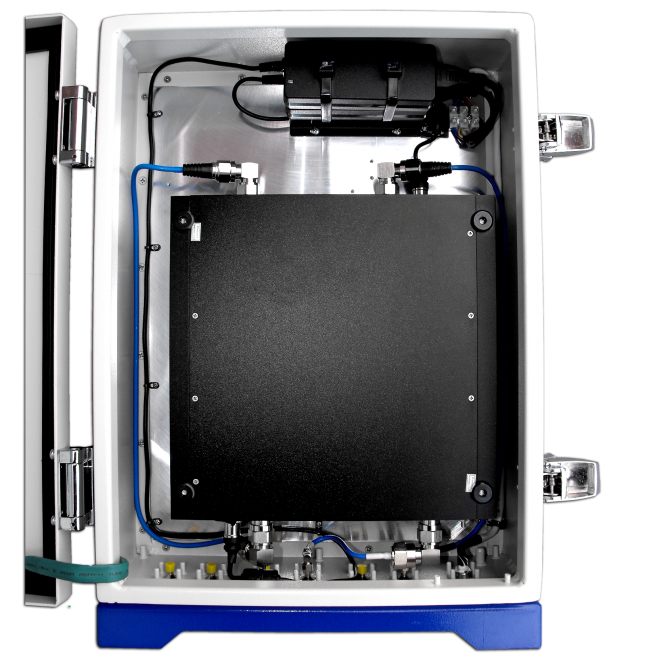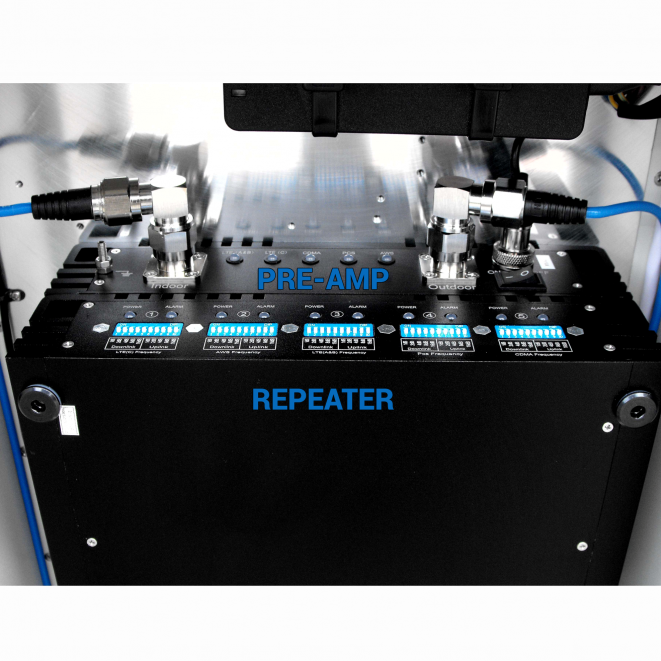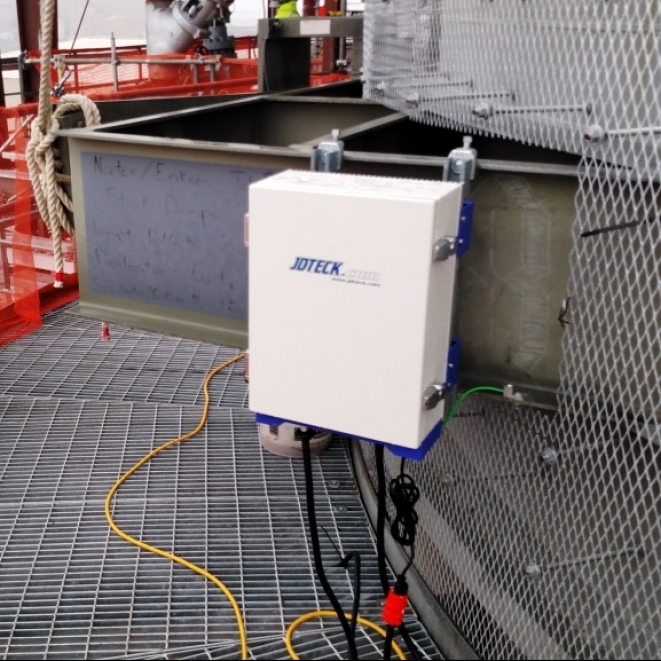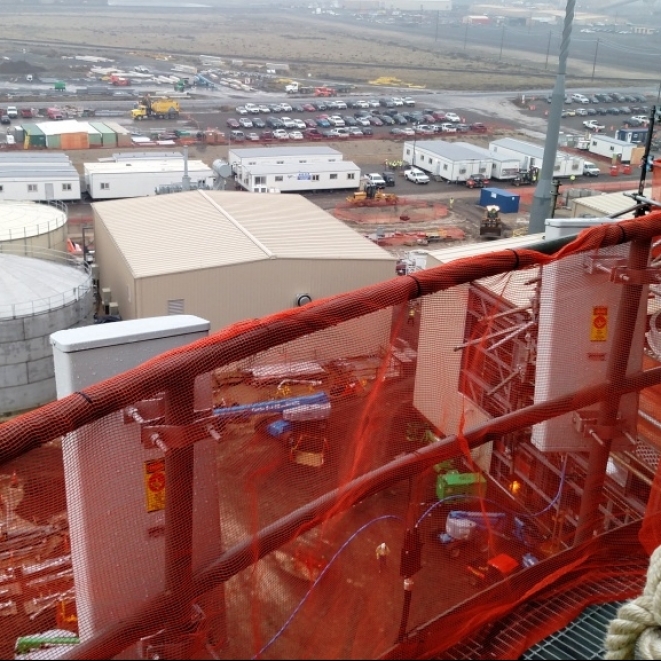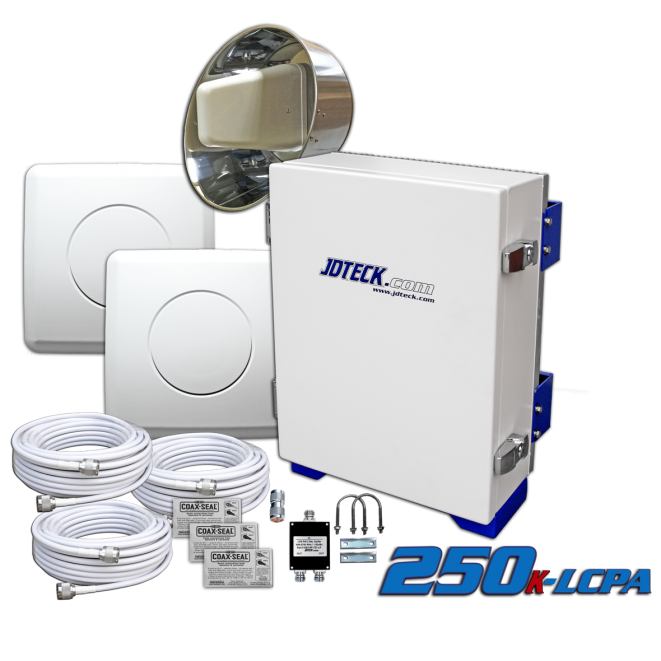 Product Overview
JDTECK's JDIR-LCPA-ODK-250 Series Cellular Repeater Kit is a high-powered, gain adjustable quad band repeater system designed to provide enhanced outdoor coverage for Voice, 3G and 4G LTE to a 250,000 sqft space. (500ft out from each service antenna). It is perfect for use in commercial and rural applications like drilling rigs, remote construction sites, RV camp grounds as well as remote residential locations like ranches and remote communities. Built into the IP65 rated head-end enclosure is a pre-amplifier which is designed specifically for weak input signals.  The repeater features individually assigned Uplink and Downlink attenuation adjustment DIP switches for each frequency band. This allows the user to optimize the output signals for the various bands supported by the system.

The donor antenna is a log periodic with metal canopy shield. This not only aids in capturing a weak signal, but helps increase RF isolation between the transmit and receive signals. The service antennas are high gain 60 degree beam-width panel antennas (2)  designed to provide maximum coverage of the space. The user may also opt to remove the 2-way splitter, connect just one service antenna which will narrow the coverage width, but effectively double the distance of coverage. 

The kit is supplied with everything needed for rapid deployment excluding the poles / towers to mount the the antennas on. Mounting the donor and service antennas on existing structures like a building, water tower or any other tall structure is also possible, but careful placement and orientation of each antenna is very important to avoid signal oscillation. 

In the standard kit, the donor cable length is 100ft and the service cables are 50ft each, however these can be customized as needed at the time of placing your order. The grade of the donor cable is 600 Series coax whereas the grade of the service cables is 400 Series. 
Unlimited Call Capacity
Quad Band Kit - Supports Voice, 3G & 4G LTE
75dB Gain / 32dBm Output Power
36 Months Warranty
30 Day Money Back Guarantee
IP65 Rated, Lockable Weather Proof Enclosure
MUTE - Auto Shut Down if oscillation is detected
MGC: Manual Gain Control (Uplink & Downlink)
Automatic Limit Control Feature

Uplink Sleep Mode when Inactive
Transparent to Transmitting Tower in Area
Coverage Area - (250,000 sq ft)
Supports 90-240 Volts
Alarm LED's for Error Detection
Supports Any Cellular Device (Voice & Data)
Automatic Gain Control Feature
Carrier Grade Performance & Quality
Free! - Phone Tech Support
SKU:
JDIR-LCPA-ODK-250
250K Quad Band O-DAS Kit
To maintain safe and specific output signal levels, this advanced repeater has built-in AGC (Automatic Gain Control) and ALC (Automatic Limit Control) circuits which can automatically control the gain of the repeater within a 15dB range depending on the RF environmental conditions. In addition, it also has built-in attenuation dip switches that allow you to manually attenuate (fine tune) the repeater's uplink and downlink channels in 1db increments up to 31dB, using color changing LED's as a status indicator. These Alarm LED's are used as a guide to prevent your installation from re-producing errors due to excessive input signal strength if a pre-amp is used, or from signal oscillation due to the indoor antenna and outdoor antenna being too close to each other, which can have adverse effects on a base station and greatly impede system performance. 
A Network Safe / MUTE™ feature comes standard with this repeater to protect the cellular network. In short, the repeater will stop transmitting if any errors or signal oscillation is detected within 2-4 sec of detection. It will cycle for 30 sec then attempt to transmit again. If no adjustment in gain has been made to correct the error within the 30 sec MUTE cycle, the system will again shut down after 5 sec. It will run this sequence for a total of 3 times and then shut down completely.  Power cycling  the unit will reset this sequence.
This repeater is designed to be transparent to the network and will therefore support the same number of calls the serving sector of the BTS the donor antenna is aimed at. 
Frequency Chart
Model

Uplink

Downlink

JDIR-LCPA-ODK-250
LTE (A&B)
698 ~ 716 MHz
728 ~ 746 MHz
LTE (C)
776 ~ 787 MHz
746 ~ 757 MHz
CELL
824~849 MHz
869~894 MHz
PCS
1850~1910 MHz
1930~1990 MHz
AWS
1710-1780 MHz
2110-2180 MHz
 Filter Bandwidth
Wideband
 Max total output power
 ≥17dBm
≥32dBm
 Max. Gain
≥65dB
≥75dB
 Gain Flatness
 700/800/1900: ≤6dB, 1721: ≤8dB 
 AGC Range
≧15dB - Auto shut off after 15dB (MUTE)
 Maximum Input Power
0dBm
 Gain Control Range (MGC)
≥31dB in step of 1dB by Dip Switch
 V.S.W.R
≤3
Intermodulation
9KHz~1GHz≤-20dBm
9KHz~1GHz≤-20dBm
1GHz~12.75GHz≤-20dBm
1GHz~12.75GHz≤-20dBm
Spurious Emission
9KHz~1GHz≤-36dBm
1GHz~12.75GHz≤-30dBm
LTE
Meets 3GPP LTE Standard
≤ 12.5%
≤ -35dB @ Spreading Factor 256
CDMA
ρ > 0.980
Meet IS95 & CDMA2000
PCS & AWS
Meet 3GPP TS 25.143( V 6.2.0 )
≤ 12.5%
≤ -35dB @ Spreading Factor 256
Noise Figure (@ max gain)
  ≤8dB
Group Delay
≤ 1.0μs
Impedance
  50Ω
Variable Gain
The UL gain automatically attenuates at the same dB level as the
DL gain when the ALC is activated, however the DL gain does not
change if UL automatically attenuates.
Mechanical Chart
Power Supply
Input 90- 264 VAC,50 Hz, transformer: 12V / 11A
Cooling
Heatsink Convection Cooling & 3" Brushless Fan
Power Consumption
< 35W
Operating Temperature
-25°C~+55°C (-13F ~ 131F)
 RF Connector
N Female
Weather Proof
IP40
Dimension
250 x 250 x 52 mm / (9.8" x 9.8" 2")
Weight
≤5Kg (11 Lbs)
LED Alarm
Standard
Power LED
Power Indicator
ALC LED
Amber @ ALC 1~5dB, Red @ ALC 15-20dB
LED off after 5 seconds red color
30 Day Money Back
GUARANTEE
---
36 Month Warranty
This is NOT a CONSUMER device
It is designed for installation by FCC LICENSEES and QUALIFIED INSTALLERS. You MUST have an FCC LICENSE or express consent of an FCC Licensee to operate this device. Unauthorized use may result in significant forfeiture penalties, including penalties in excess of $100,000 for each continuing violation.
Upload Background Image
Drop File